You don't know what you have got until it is gone
8.September.2023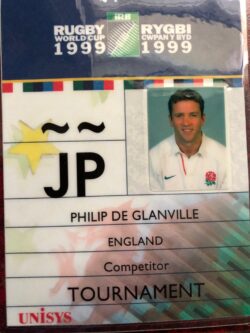 On the eve of the Rugby World Cup 2023, and as the New Zealand and French players nervously anticipate and prepare for what may be a stunning opening to the tournament, I was drawn back to memories of playing in the 1995 and 1999 Rugby World Cups by finding my accreditation badge for the latter tournament.
Having only started in 1987, these were the third and fourth tournaments ever and the International Rugby Board (now World Rugby) was starting to see the benefits of using the tournament to develop rugby across the globe. The announcement that rugby union would go professional in 1995 (but with a moratorium for a year to smooth the transition, which was chaotic regardless) meant the 1995 tournament carried extra spice.
Add to it a certain player called Jonah Lomu, the epic sight of Nelson Mandela handing the cup over to Francois Pienaar as the winning South African captain in Johannesburg and the impact it had on the South African nation, and you had a very special tournament.
I had played in both the successful Italy and Samoa games in the pool games, where we had struggled to beat Argentina, but had to watch from the replacements bench (before substitutes were allowed) as we beat Australia in the quarter final and then were steamrollered by Jonah Lomu and New Zealand in the semi-final (although everyone forgets we did score 29 points). I was in a battle with Jeremy Guscott and Will Carling to try and break into the starting team on a regular basis, and we had had a very successful 1995 six nations leading in to the World Cup.
My focus was on getting in to that starting team, and many of the players in the current England squad will be focused on the same thing, having been focused on getting in to the RWC squad in the first place. As the profile of each RWC has grown higher, the importance of making the squad, then making the team has grown with it, but in your mind you are just concentrating on what is in front of you to make that team. You never have a chance to look at the bigger picture, to realise that this might be the last game you play in a Rugby World Cup. Every player gives their all, but there would be a different type of intensity if you were told it was to be your last game in an England shirt ever.
That is what it was for me in the 1999 tournament, watching Jannie De Beer kicking 5 drop goals over my head despite desperately trying to charge him down each time, kicking from longer and longer distances each time until he was converting them from his own half.
The quarter final against South Africa in Paris came after we had played Fiji in a play off 4 days earlier, then lost a day's training travelling to Paris – can you imagine that now and having to play 2 test matches in 5 days!
We were in that play off because we had lost to New Zealand in the pool match, a tremendous match at Twickenham where we had pulled back to level the game with 20 minutes to go, before a certain Jonah Lomu got the ball in space on the left wing and ran through about 5 England players on his way to the clinching score. I had managed to score a try by grounding the ball against the post pad (good rule knowledge) and desperately trying to make sure the referee had seen that I had done so. The support and atmosphere from the England fans on the way to and at the stadium was the most intense and best I have ever felt in an England jersey, quite spine tingling.
And so that was that, my last game in an England jersey was done, against South Africa in a game where momentum was taken from us and we never got it back. You never know what you've got until it is gone…..
My message to those England players as they prepare to play Argentina on Saturday night – play every game as if it is your last as you never know when it will be your last. It is a unique privilege to play for your country (and you have worked incredibly hard to get there) in a World Cup, the pinnacle of the game, which you won't quite realise until you no longer have that opportunity. One day it will be gone…..