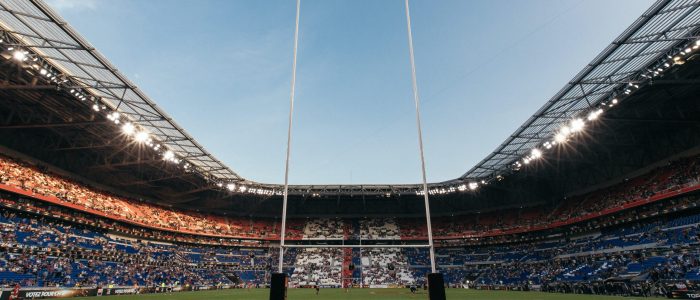 The Six Nations View
15.February.2022
We recently put out a podcast around the Six Nations, and you can read some of the edited highlights below. If you'd like to tune into the whole thing, then you can do so here.
When it came to discussing a podcast around the Six Nations rugby, there was only one choice for the task: former England captain Phil de Glanville, who also just happens to be one of the three Hanover Fox directors.
We focussed on looking at the process of managing change, specifically within the professional sports team structure, and at the Six Nations championship where France started as the favourites to end their 11 year wait for a championship. The magnificent win over Ireland at the weekend puts them in pole position to do so.
Inevitably as the talk progressed, we also ran the rule over a very youthful new England side too.
Managing Change
One of the most difficult challenges for any company or team to manage is the process of change. Taking an entity that has been, or is, successful and introducing new structures to keep them successful throws up a specific set of obstacles. Management or managers can significantly enhance their reputation if it's done successfully, but as it is the most difficult thing to do, it's fraught with pitfalls.
"Evolution rather than revolution is the key to it," says de Glanville. "Keeping a team that's on top of its game focused on the purpose but refreshed and with new ideas and new skills coming in on a drip by drip basis rather than wholesale change, that's the ideal. [Whereas] being forced into wholesale changes might take you to take three steps backwards to go four forwards. Trying to get that balance right is the real trick."
There are myriad studies from every decade – or even the last hundred years – on this subject, from business scholars to those who developed and managed successful teams. Finding areas that they all agree on is never easy, but the one universal agreement – item one on any agenda – is to establish clear expectations from day one.
"The reality in a team – depending on how big it is – is that you're firstly going to have a wide variety of different experience levels, secondly different contributions from a talent and skill perspective, and thirdly and probably one of the most important aspects that keep on falling underneath those two, is attitude. A lot of the time, people are recruiting for experience and talent but forgetting attitude and the ethos that an individual brings to a team. So, really from my experience, it's about looking at all three of those when you are recruiting, but you're going to have everyone in a slightly different mix of those three within your team. So, whatever your focus, whatever your purpose, everyone that's in that team is going to be coming at that purpose in a slightly different way and from a slightly different perspective. And that is the challenge, so there's got to be differentiated management of all those individuals to get the best out of them, because they all need managing in a different way."
A story which has been told many times down the years is about when JFK went to visit NASA back in 1961, and he stopped to ask a janitor what he was actually doing. The janitor replied: "I'm helping put a man on the moon."
"That is exactly what you want! You want everyone focused on that end objective. And if you can achieve that and get that buy-in from top to bottom, left to right, whatever the dimensions of the team are, then that's your nirvana, that's your end game. And to achieve that is amazing."
There's always somewhere a degree of resistance, as people find it difficult to let go of the old norms
"As a leader coming into a team where you've got some strong performers who've been in that organisation, team, or company for a while, that is inevitable. You have to grab those people who might be resistant in the first place and really convince them of the benefits of what you're trying to do. And if you can do that, they will become your greatest advocates. So, don't just ignore those people, try and use them to your advantage to bring others with them."
Phil has been involved with elite sports teams, coaches, and managers. They can and will use different means to develop the culture of the team, which is also very important. The coach can create it based on his or her own leadership style, or it could be left to develop from within the team itself, which would perhaps give the players and those involved a greater feeling of belonging because they developed it themselves and they would feel more ownership. So, what would be his choice?
"The key there is ownership. If people are not driving this themselves and it's forced on them from above, or from an external perspective, then it's not embedded, it's not in their everyday behaviours. It's not something that they think and do all the time. It has to come from them. I think the coach, or the leader, can set the environment, clearly can talk about the purpose and the focus and what they're trying to achieve, but the way that team operates, the culture, the ethos, the interconnectedness between them all has to come from the team itself. We've seen Eddie Jones talking about that a lot in the press at the moment because Owen Farrell is out and he was a key leader. So, Jones is looking at that leadership density, as he calls it, within the team and the rest of the squad. It must come from the players, and it has to come from the team. It can't just be driven by the leader because then it's just not sustainable."
So, how important is it for the leader, the coach and manager to actually respect the team as individuals – is that even possible particularly in a sports environment?
"It's essential to understand the nuances of each of those individuals. Again, if you look at the England team, a character like Joe Marler and his background, how you handle him is chalk and cheese to someone like Maro Itoje. There are always such different characters that you can't have a one size fits all management approach to them. It has to be individualised, and that is a big challenge in a big corporate where you have got literally thousands of employees. So, you are relying on the managers within that structure to be able to cascade that and to manage those individuals on an individual basis. The relationship with your line manager is probably the most important facet in terms of happiness at work. I think someone said the other day it's about 75% of your happiness, work and commitment to what you're doing. So, that individual, that manager has to be really, really good at knowing you as an individual, understanding how to motivate you and then managing you on that basis."
Bill Walsh from the be San Francisco 49ers was asked in an interview about what business could learn from the sports world, and what label he most admired that was attached to him. And he simply said 'being a teacher'. John Wooden who was something of a coaching legend at UCLA, when asked the same, said, "Effective leaders are first and foremost very good teachers." So, teaching is the key thing?
"It is. And there is no surprise that some of the best rugby coaches have been teachers in their earlier career. Eddie Jones was a teacher, Brian Ashton was a teacher. It is about showing the way and then the players, the pupils getting there, getting to their end goal themselves, that is exactly what it's about. And also understanding, because the best teachers in a classroom will know that everyone moves at a slightly different speed and some people just get it straight away and are on to the next thing. And so, you want to push them on to further and harder things. And others struggle with that particular topic, and that's where you need to spend time with them, try a different way to show them. If you've tried one particular way and it hasn't worked for that group, then try a different way. And then you've got the whole differences anyway between the way people learn, some visual learners respond very well to images, others are much more into the detail and like to see the numbers on the page. So, everyone learns in a different way, in a different style. You've just got to keep trying those different ways to coach, those different ways to teach, until everyone gets it and is able to move forward."
If we apply some of what we've been talking about to Eddie Jones and the project New England. Is the objective to bring immediate success and results, or are we in the planning period where the goal is to win the World Cup? Because presumably – unless you are very lucky – getting the two together is going to be very difficult.
"The challenge for every international team is whether to focus on the World Cup every four years, or on what they're doing this year in the build up to that. That's a difficult balance to find. You certainly don't want to be peaking for the years in between the World Cup, so you want to get as close as you can to those World Cup cycles to get it right. That means that in between there may be some years when you're not performing in terms of results, because you are blooding new players and bringing new ways of playing into the squad, which takes a bit of time to settle down and to embed. That's what's happening  right now with the England team. The new England has got a significant number of new players in it, so there has been a regeneration of the team in the last in the last 12 months. There's also been a regeneration of the coaching team. So, when they analysed why things hadn't gone so well in last year's Six Nations, they knew they had to make some changes with both the playing and coaching squads."
 Has the World Cup, which has grown significantly in terms of an event over the last 20 odd years, overtaken the Six Nations to the point where, "Okay, if we win the Six Nations then great, but if we don't well, so be it, because we really do want the World Cup"?
"It's trying to get the balance right. As we headed into this Six Nations, I was probably the most excited I've been in a long time about it, partly because there are so many teams that could win it. France – who've been sleeping giants until the last year or two, they are hot favourites for it. Their results so far have reinforced that but they have played both matches at home. And when you look at Ireland and Wales' consistency… Ireland have been incredibly consistent, they've been in the top three every year for the last seven years and won it twice. So, that is an amazing stat. And when you've got them, and Wales – who likewise  go from bottom/nearly bottom one year to winning it the next – they are very capable of winning."
And so finally, if we had to pin Phil down, who does he think is going to win the Six Nations this year?
"You can't put me on the spot! But genuinely, I think this is the most open Six Nations we've ever had, ever. So, it's going to go down to a bounce of a ball one way or the other: a penalty in the last minute of overtime, say. Bonus points are going to be crucial because the margins are going to be so tight. I can't see anyone winning the grand slam. I don't think anyone's going to win every game. So, it'll come down to points difference, probably. France have started very strongly but have 2 tough away games to come and even though they lost at the weekend away to France  Ireland look very strong and their provinces have played so well in Europe.  They played the best game in the Autumn internationals by far against New Zealand. That was an incredible game of rugby.  Their start against Wales was magnificent and they pushed France right to the wire.
If you'd like to get in touch with us with your predictions for the Six Nations – or if there's anything else we can help you with – then please get in touch.